Accréditation


Services


Membres


Structure et adhésion


Savoir-faire


Curriculum Vitae


Documents


Liens et partenaires

Projets

Projets actifs


Projets réalisés

Welcome

Accreditations


Services to members


Members


Available Know-How



Projects

Active projects


Completed projects


Documents


Links & Partners

Message du George Charpak

There is an obvious and reciprocal need for being able to benefit from a growing number of accreditations with national and international organizations.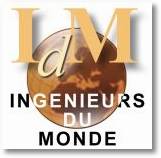 The advantages of being a member or partner of Ingénieurs du Monde include :
ensuring the recognition of professionalism in domains related to the vocation of Ingénieurs du Monde. Members and partners thereby increase their "intellectual authority"
allowing participation in exchanges concerning large planetary problems that animate scientists and technical specialists. The richness of information provided by many sources communicated to Ingénieurs du Monde is distributed knowledgeably to the profit memberss
facilitating involvement through the realization of large international and national projects while contributing to Ingénieurs du Monde's members' knowledgebase of world problems.
Members wishing to participate in these forums, conferences or work groups are welcome.
Available document:


Apporter votre concours à Ingénieurs du Monde, c'est aider efficacement à atteindre les objectifs suivants:

Résoudre les problèmes techniques sur le terrain avec les spécialistes;


Etre présent dans les arènes politiques onusiennes pour mieux anticiper les phénomènes à venir;


Transformer nos intentions en actions pratiques tout en restant fidèle à notre philosophie de vie professionnelle;


Favoriser l'expression de solidarité de la profession par des réalisations qui permettent de transférer le savoir-faire;


Et enfin, la clef de voûte de notre principe de base: partager la connaissance. Cela ne déleste personne et enrichi une équipe.
Si vous adhérez à une ou plusieurs de ces idées fondamentales d'Ingénieurs du Monde, alors, comme J.F.Kennedy, vous ne vous demanderez pas ce que le monde peut faire pour vous, mais plutôt ce que vous pourriez faire pour le monde.
François ULLMANN
Président d'Ingénieurs du Monde